We hope you're excited to get started! This article will cover:
What you need to get started
What to do if you run into technical issues
How to start chatting with students
First, let's look at what you'll need before signing in.
What do I need to get started?
Google Chrome (required): Check that you're using the latest version of Google Chrome. You can find directions on updating Chrome here.

High-speed & Stable Internet (required): Please check that your internet can consistently connect to our video chat servers. You can test your connection here.

Appearance and Attire (required): Our dress code is casual, but you should maintain a well-groomed and professional appearance while working with students. See "Important Policies" for more information.

Quiet Place with a Tidy Background (required): Your computer and camera should be resting on a desk (not in your lap or arms) in order to maintain a stable video feed. See "Important Policies" for more information.

Headset with mic (strongly recommended): A good headset with a mic will help you communicate clearly with your students. While this is not required, it is highly recommended and will boost your professionalism!
How can I start talking with students?
Now that you have everything you need, you're ready to start tutoring! Simply log in to your tutor account by visiting cambly.com/tutor, then click the yellow button to start the Connection Test. You'll be asked to check your connection every time you log in.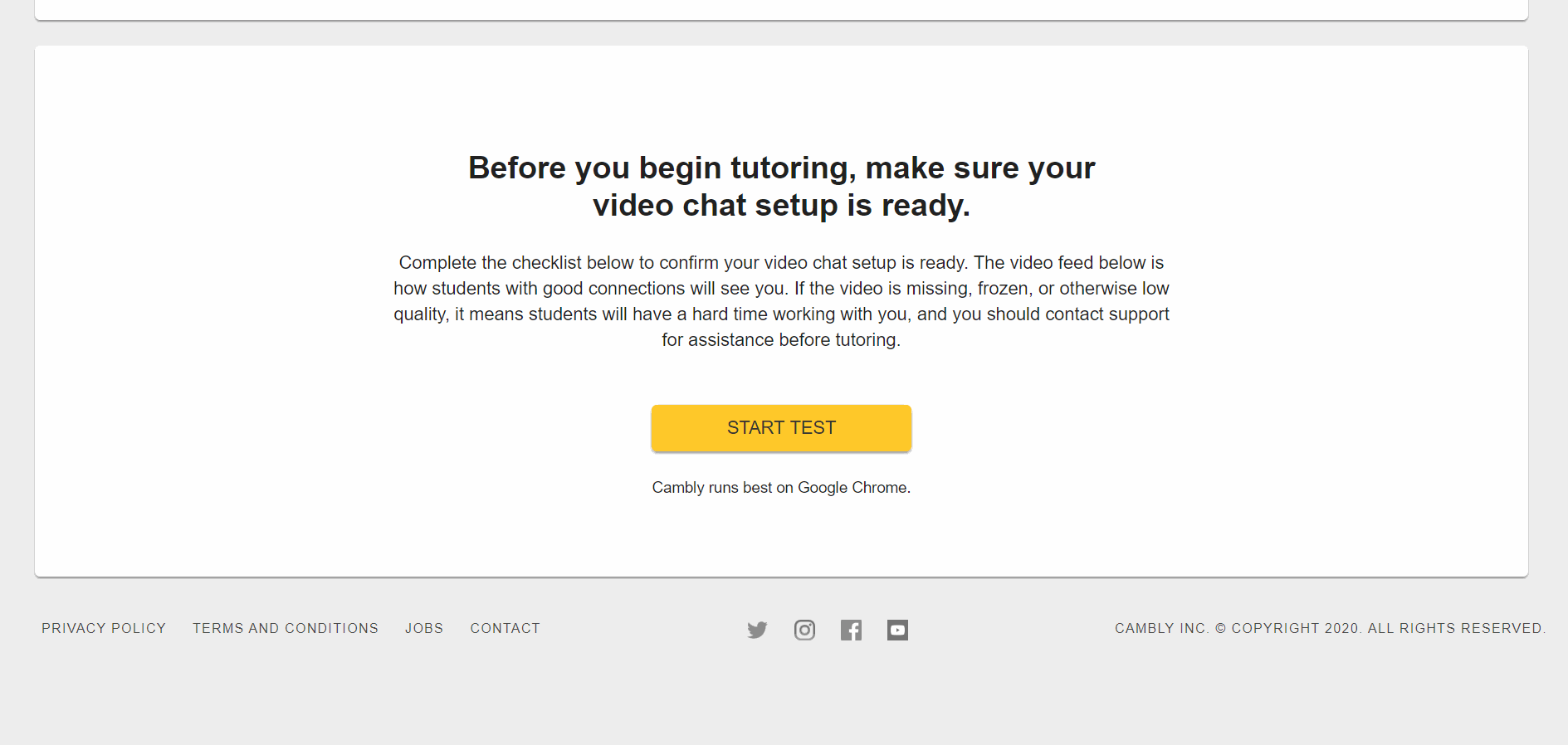 The Connection Test
We'll test your connection and preview your video on the left. Blue bars indicate a good connection, while red indicates a problem. The checklist on the right will help you prepare your tutoring environment. Everything on the list must be checked off before you can click "Continue".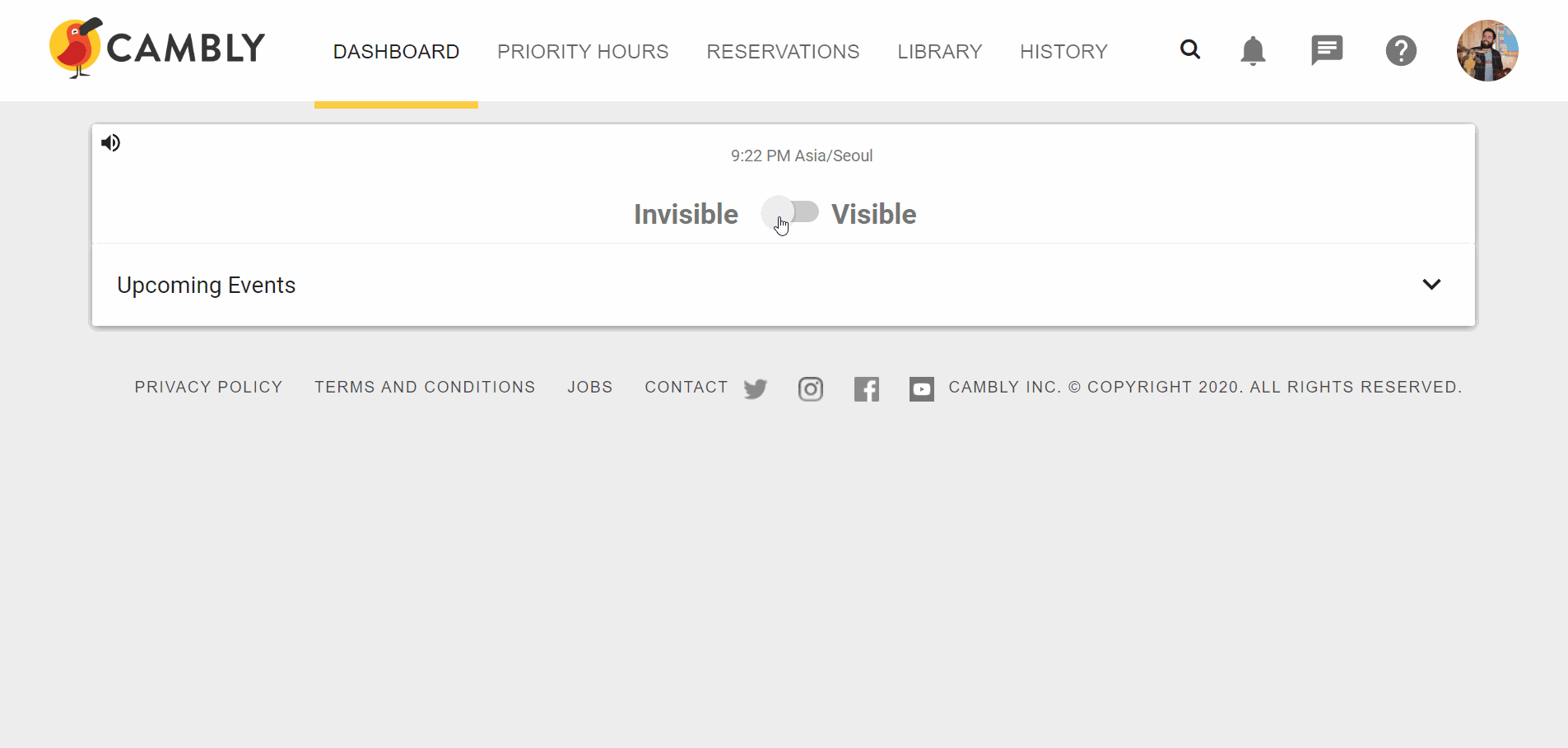 The Dashboard
Now you're ready to start tutoring! Just flip the switch to "visible" and wait for a student to call. Once you hear the ringtone, you can click the student's name to start the call.
Simply going visible is great if your schedule is more spontaneous or if you have some extra time to tutor, but it can be difficult to grow a consistent client base this way. We highly recommend Priority Hours and Reservations, especially for new tutors and those who prefer a more structured tutoring experience. You can learn more about them in the next two sections of the Tutor Guide.
Pro Tip: One of the best things you can do to cultivate a warm, accepting learning environment is to smile! :) Learning a new language is difficult, and creating a safe and comfortable atmosphere can make a huge difference in helping your student learn. Remember the more your student learns with you, the more likely he or she will request you again.

Please note: You're not obligated to answer calls when visible, but if you miss a few in a row we'll assume you've stepped away and automatically set you as "invisible."
Frequently Asked Questions
What if I have technical issues?

Take a deep breath and relax because we've got you covered! :)

Our Troubleshooting Flowchart is the best place to start. Less common issues are more likely to be covered in the Help Center. If you can't find a solution there, feel free to reach out to our Tutor Support team. We're a small, but experienced and hard-working team trying our best to help tutors as much as possible. :)
How can I be a successful online tutor?
What does a good tutor profile look like?

Write an Interesting Introduction: Do you have lots of teaching experience, a cool job, or a unique hobby? Be sure to write it all. Go ahead, brag a little!

Our students are especially interested in tutors who:

Speak a second language like Japanese, Arabic, or Portuguese.

Have an MBA or experience in Medicine, Law, Engineering, or Entrepreneurship.

Or can help with a specific language need like interview practice and business English.

Upload a High-Quality Photo: Make sure to upload a clear and friendly-looking headshot. We've found that tutors who face the camera and smile in their photos receive more new students than those who don't. Go figure - people like friendly faces!

Record an Introduction Video: Introduce yourself and showcase your unique personality! If a picture is worth a thousand words, a video is worth a million. A short video of yourself talking about your experience, interests, and teaching style, gives students a much better idea of what to expect from a session with you.

More for tips and examples, check out this article: "What does a good tutor profile look like?"
Why can't I hear calls ringing?

The latest Chrome updates are making it harder and harder for notifications from an inactive tab to grab your attention. To try and solve this we've added an alert to let you know if Chrome mutes your ringer. By clicking on the alert you are letting Chrome know that the page is still active and that you'd like audio to come through.

For more information, please check out this article.
More Resources