Now for the most exciting part of Cambly… chatting with students! Your chats could range from casual conversation to homework help. It's really up to you and your student to decide on the lesson topic. And with students from over 100 countries, you'll always be learning about new and fascinating cultures.
This article will cover how to structure your conversations, culture shock, and our Tutor Rating system.
How should I structure my calls?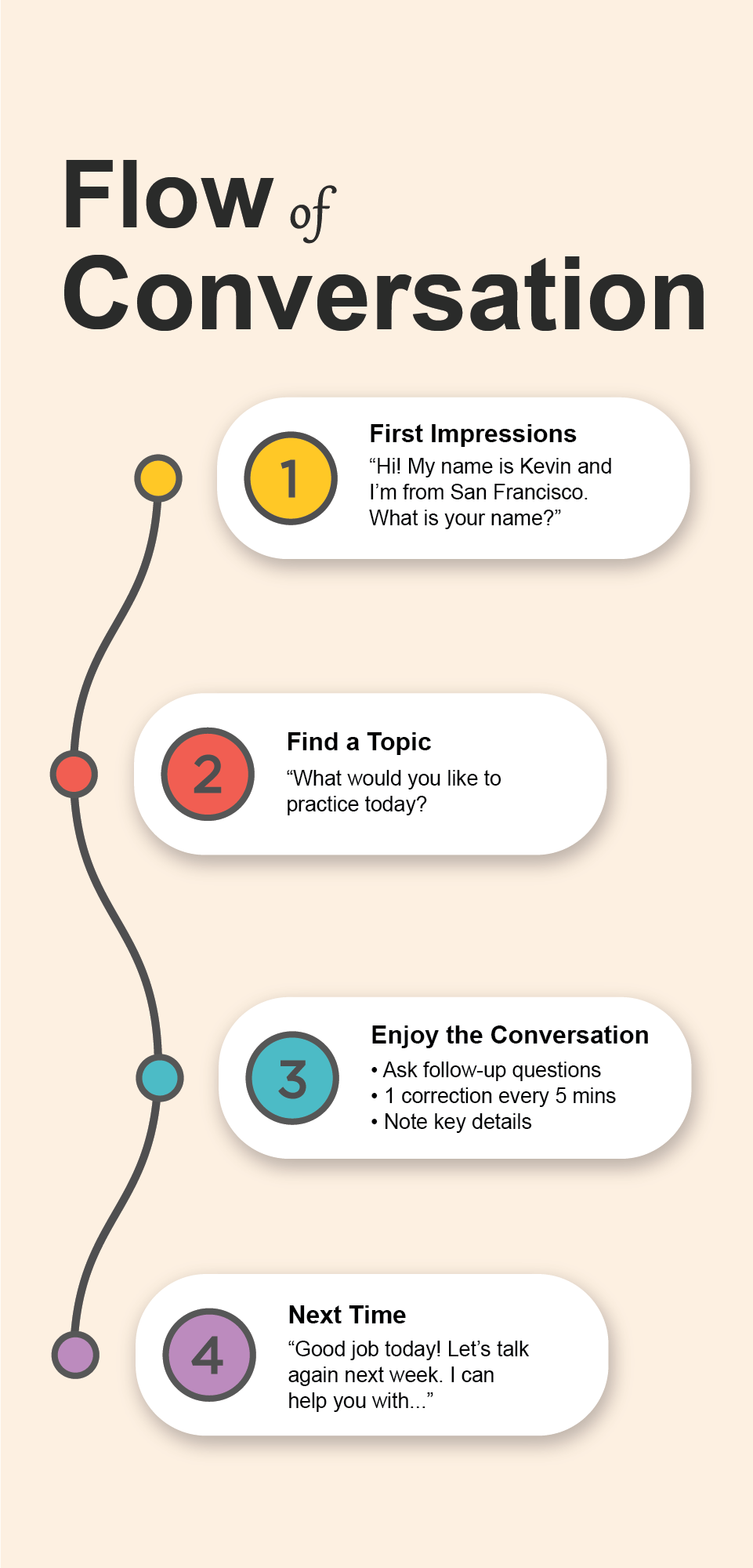 1. Introduce Yourself
Start with a short introduction, a wave, and a smile. For example, "Hi! My name is Kevin and I'm from San Francisco. What is your name?" It's simple, but it seems to get the best response.
2. Find a Topic
After initial introductions and some small talk, you can ask "What do you want to practice today?" Some students may already have something in mind, while others might just want to practice conversation.
Remember, this is an opportunity for you to learn about the world from the comfort of your home! Have fun, be curious, and see if you can make an interesting friend.
3. Enjoy the Conversation
Once you find a topic, you'll need to maintain the flow of conversation. Thoughtful follow-up questions are a great way to do this. Watch the video above to see a master tutor in action!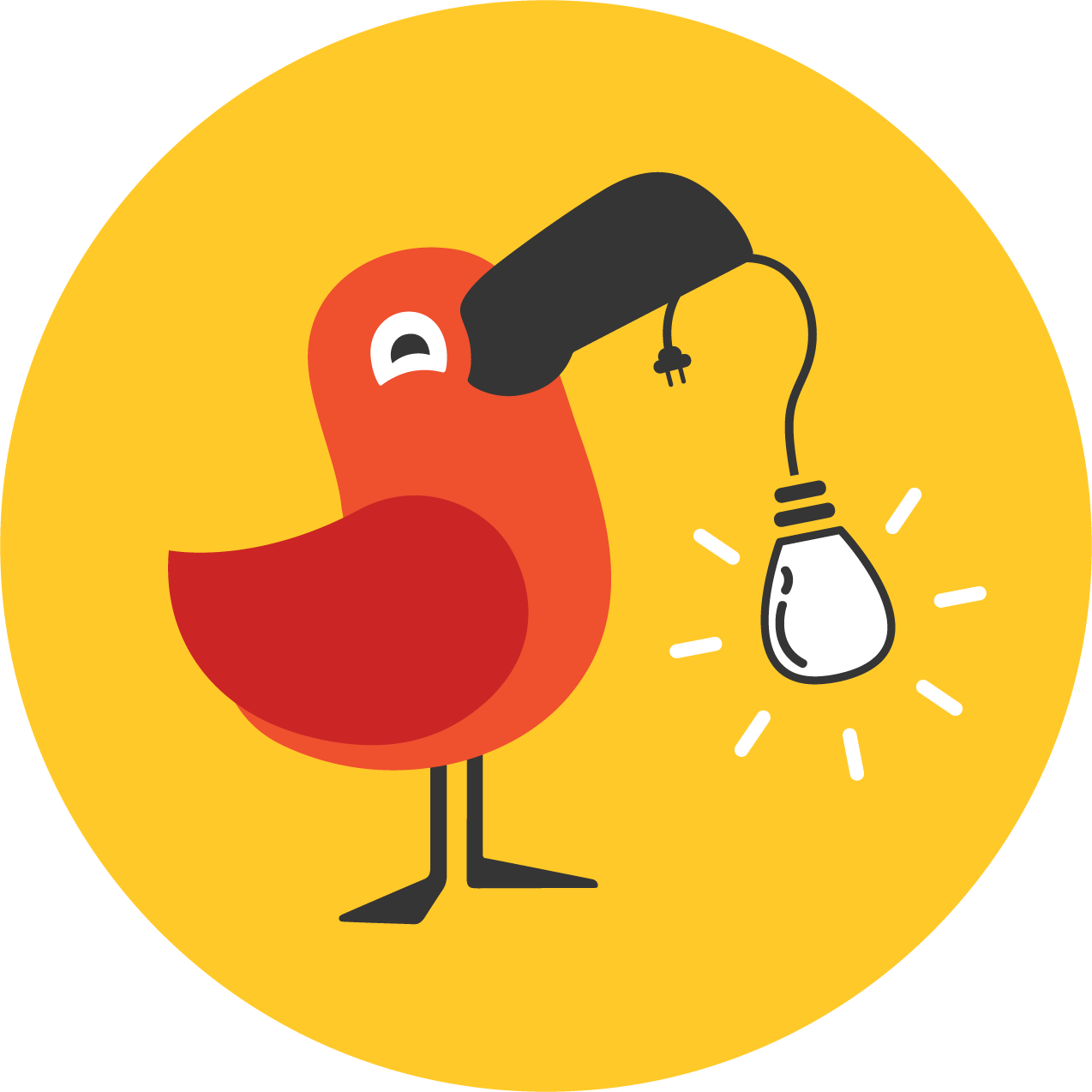 Pro Tip: Want to know the #1 thing students want from a tutor? Corrective feedback! As your student speaks, you'll notice errors and have suggestions for better words or phrases they could have used. Giving too many corrections can discourage a student, but too few will slow their growth. It's best to aim for 1 correction for every 5 minutes of conversation.
When you give a correction, you should do so verbally and in the chatbox. When you type a correction, a tag is added in the class video, so your student can skip directly to that point when reviewing the class.
4. The Wrap-up
As you're wrapping up a session, try referencing something from your chat so your student leaves with an especially good impression. You can also coordinate your next lesson or assign "homework" (perhaps an article or video you'll discuss next time). If your session ends before you wrap things up, try sending some feedback and words of encouragement in a message after the chat.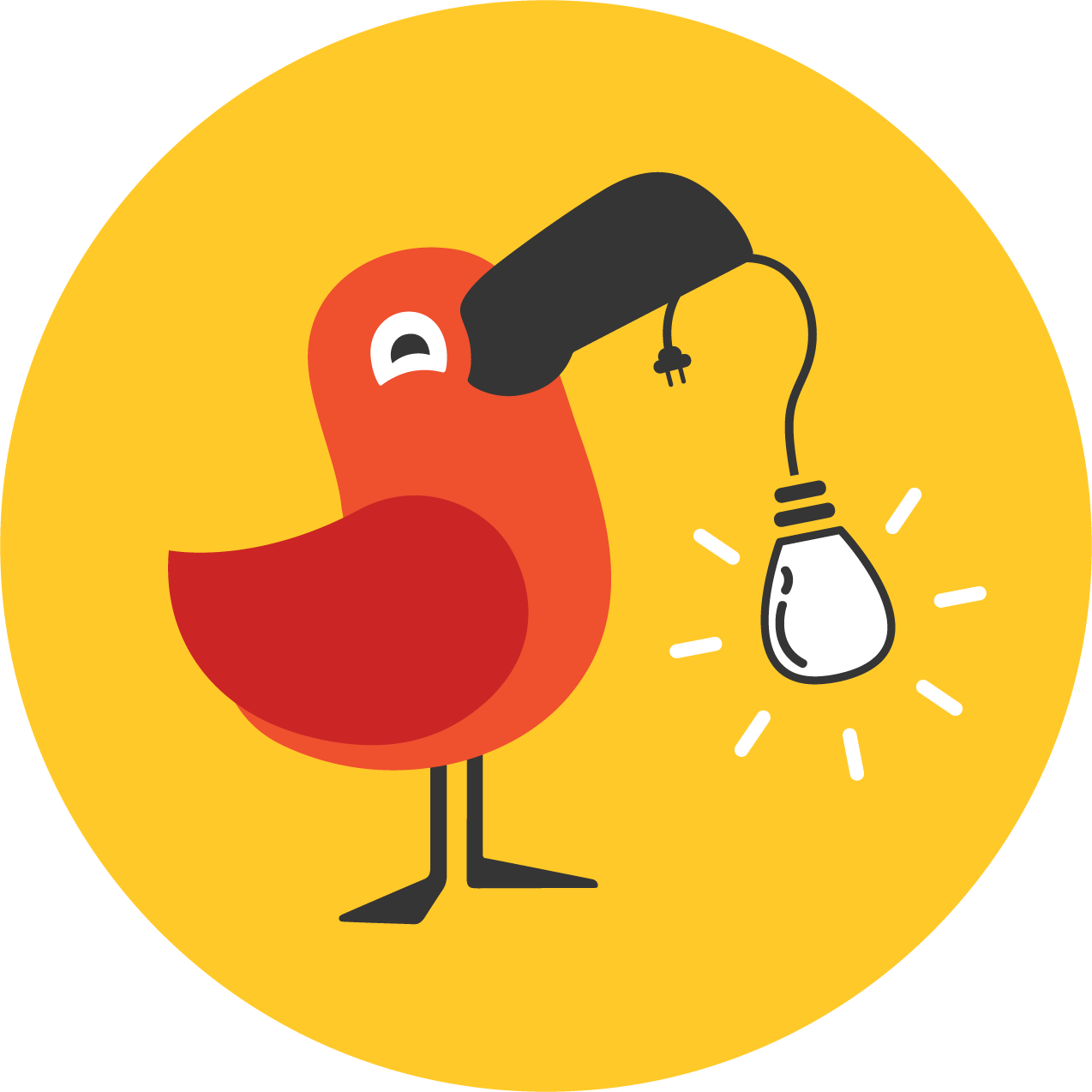 Pro Tip: Help with a specific language need. Tutors often try to help their students with something specific (helping them draft a resume, write an email, prep for an interview or presentation, proofread an essay). If you go this route, we recommend that you do the work during your chat time so that you are always paid for your help.
Tutor Ratings
After every session, we ask your students to rate your chat on a scale of 1 to 5 stars. Your Tutor Rating is calculated by averaging all of their responses (with filters in place), so no single student should overly impact your overall rating.
The following responses are filtered out to protect you from unfair ratings:
non-paying students

banned students

chats with connection issues

chats lasting less than a few minutes
Over time, your rating shows your ability to impress your students. A strong rating may help attract new students and can increase how far in advance Priority Hours become available to you (up to 3 weeks).
Want advice on building your Tutor Rating? Here are our top three tips!
Be patient and attentive with each student you meet.

Learning a new language is hard. Giving each student a positive experience encourages them and reflects well on you as a tutor!

Be flexible and ready for anything.

If a 5-minute free trial wants to practice IELTS, go for it! You have plenty of time for 2 short questions and 1 long question including feedback.

Have a lot of materials available

like conversation topics, articles, grammar, and even flashcards for beginners. Many of our students are taking their first terrifying step on the journey to learning a new language. Having a confident and prepared tutor can make all the difference. Not sure where to start? Check the

Cambly Library

! The lessons are easy to follow and don't require any prep work to teach.
For more helpful tips on increasing your tutor rating, check out this article: How can I be a successful online tutor?
Frequently Asked Questions:
What are some cultural norms I should be aware of?

Brazil: In Brazil, it is culturally normal for men to be shirtless around the house, especially in the summer, so please don't be alarmed! It's also common for both men and women to call while reclining in bed or on a couch, even though they are serious about learning.

Saudi Arabia: Some Saudi men may use Cambly while driving. Although technically illegal in KSA, it is common to the point of being culturally normal. Tutors who feel uncomfortable with this are welcome to ask the student to call back later or to turn off the camera. In Saudi Arabia, it is also culturally normal for women to turn off their camera or cover their camera with their hands. Additionally, both Saudi men and women are generally more sensitive about information being shared about them publicly.

Middle East Region: It's culturally normal to smoke hookah (aka sheesha) while chatting with friends. You may notice some students smoking a pipe-like device with an attached hose while talking to you. Hookah is tobacco-based and legal across the Middle East.

Southeast Asia: It is common for Asian students to be more reserved than students from other regions. Tutors have noticed that they are also more likely to prefer covering content during sessions to help structure the conversation. Tutors also report that they tend to expect the tutor to take the lead in determining the session topic/lesson.

All Students: In most non-Western cultures, asking tutors their age and marital status is very common and considered non-offensive. If you prefer not to answer, feel free to redirect the question to another topic or advise the student that these questions are not commonly asked in Western culture. Also common are excessive compliments (at least by Western standards). Many times students from other cultures believe that they are extending appreciation through compliments and do not mean any harm. However, if you believe a student's remarks become inappropriate in any way, you are empowered to change the subject or hit the "Report" button and end the conversation.

Children: Sometimes children will use Cambly, either supervised by the parent or on their own. Many tutors find that sessions with children are most successful if the parent is within earshot and can help moderate.
What if I have a difficult or inappropriate student?

When it's okay to Politely Hang Up: If you encounter a student who doesn't seem serious about learning English or one with an internet connection that's too low to sustain a conversation, it is entirely acceptable to very politely say goodbye. For example, with a non-serious student, you could say: "I'd love to help you, but you should call back when you're ready to practice English!" Then smile and wave goodbye.

When it's okay to Hide Your Profile: Not every tutor and student can get along and that's okay! If you find a student is not compatible with your teaching style, politely let them know and recommend that they look for another tutor. Being upfront with your student can help avoid awkward situations in the future.

If you're not comfortable having those conversations, or if the student continues to call, feel free to hide your profile but again, it's usually best to communicate directly whenever possible. :)

Please note: Hiding your profile from a student will automatically cancel every upcoming reservation you have with them, without penalty.


When it's okay to Ban a Student from Cambly: We empower Cambly tutors to ban any student who creates an unsafe learning environment. If you encounter any form of harassment or offensive, inappropriate behavior, please ban the student. Once they are banned, they are completely blocked out of their Cambly account and will no longer be able to see, call, or message any tutors on Cambly. If you feel that a student is not the best fit for you, please use the hide option instead.

Please note: You can ban a student while in a call, or from their profile. In the case of an accidental ban, tutors can click "undo" or contact our tutor support team to have the ban removed.
What if I don't know the answer?

Sometimes students may ask you specific questions about grammar or vocabulary that you may not know the answer to. Some Cambly tutors are experienced ESL tutors, and others are brand-new. It's normal for newer tutors to sometimes say:

"I don't know off the top of my head, but I can look it up for you right now."

"I'm not sure, but let me write it down now and research it later and if we chat again, I can let you know."

"I don't know, but I'm sure other tutors on Cambly do."
What if there is a lull in the conversation?

We've got your back! Here are some suggestions on how to reinvigorate your chat:

"What do you want to practice today?"

"Why do you want to practice speaking English? Where do you speak English? How will learning English help you improve your life?"

"Let's play the question game. First, you ask me a question, and then I'll ask you a question."

"Tell me about your coworkers/family. Can you describe each person to me in detail?"

"First I'm going to tell you about my day. Then I want to hear about yours."

"Tell me about your favorite meal. Describe the ingredients, how it's prepared, and how it tastes."

"Can you describe your typical day for me? What do you do in the morning, the afternoon, and the evening?"

"Tell me about the things you enjoy doing on the weekends."

"What are some things you want to accomplish this year?"

"Tell me about your favorite movie/book/tv show. Who are the characters? Why is it your favorite?"

"Do you have kids? A spouse? What are they like?"

Let's role play. I'll pretend to be your boss, and you can practice giving me an update on your most recent project. Or I'll be a prospective customer, and you can practice selling your company's service to me. Or I'll be your assistant, and you can practice detailing my task list for the week.

Also, check out the Teaching Resources section of the Cambly Library for games, discussion topics, and other material to cover in class. Giving a little structure to your sessions can help students maximize the usefulness of their sessions.
What if my student is a total beginner?

Tutoring on Cambly is an exciting and dynamic activity as you can literally receive calls from students from all over the world and with all levels of English! A little preparation (props, flashcards, articles, pictures, etc.) will help facilitate communication, especially with beginners. Additionally, our text chatbox will help you translate and communicate with any student!

If you do not have the skills to work with beginners or simply would prefer not to, please ensure that you've deselected "Beginner" on your Tutor Profile.

If you still receive a call from a beginner, we'd recommend that you politely instruct the student to search for a tutor who specializes in beginners. You can use the text chat tool to do this, as it has a translation feature built-in. Then you are free to politely wave goodbye and end the call.